Flooring Installation Perth
There are several different installation methods that can be used to ensure a timber floor can fit most situations and budgets. It is important for you to know which method is being used so that you understand the pros and cons as well as fairly comparing quotes – make sure you ask your Salesperson which method your quote includes.
Floating Floor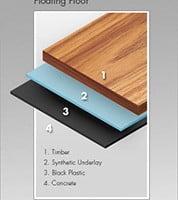 This method is used on Laminate, Bamboo and Engineered Timber flooring only. As the picture suggests, black plastic is laid first on the bare concrete slab to help prevent moisture from penetrating the flooring. Sometimes this feature is incorporated in your underlay. Underlay is installed next and the type will vary according to your budget and acoustic requirements. Once this has been laid, the timber Laminate or engineered boards follow. With all floating floors there will be some hollow sound reflected when you walk on it, however the heavier the boards you lay the less this sound will be. Floating floors are ideal in multi-storey developments as the sound transmitted through the slab below is a minimum.
Direct Stick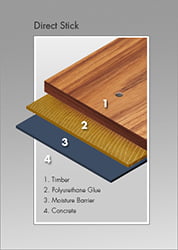 This is by far the most common method of installation for solid timber flooring used here in Western Australia. As the picture suggests, a 2 part epoxy moisture barrier is applied to the concrete slab. When this is dry, the timber is glued and nailed to the concrete. The overlay timber used in this method can range from 10mm to 14mm in thickness. While 19mm timber can still be used, there is no real advantage to using it because the thicker tongue and groove profile on the 19mm board is designed for a structural application. Consequently the sandable depth on both the 19mm board and the 14mm overlay is about 6mm. This is also our preferred method of installing pre-finished engineered timber because it drastically reduces any hollow sounds associated with floating floors.
Plank on Ply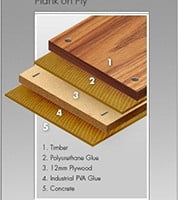 A 2 part epoxy moisture barrier is applied to the concrete slab, then sheets of 12mm plywood are glued and nailed direct to the concrete. 10mm-14mm overlay timber is then glued and top nailed with small brads to the plywood. While all timber floors move slightly with the changing seasons, the cross linked ply base in this installation ensures that movement is kept to an absolute minimum. When assessing this installation it is good to keep in mind that the plywood increases the finished floor height to about 25mm above the slab.
Plank on Battens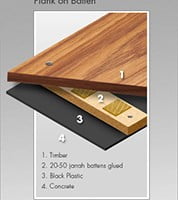 Plank on battens is mainly used in houses where the client wants the hollow sounding and springy feel floors, just like the older houses where 19mm boards were nailed onto joists. Now a days though, we either apply black plastic or a moisture barrier onto the concrete slab, fix the battens down, then glue and nail the timber onto the battens. The boards used for this method must be 19mm thick.