Flooring Installation Perth
One of the most important factors to consider when building a house is the type of flooring to be used. Taking the brunt of everyday traffic and receiving the most wear & tear, opting for a hardwearing, long-term flooring solution is a crucial choice. 
Correct flooring installation is required not only to ensure your flooring is stable but to ensure the value of your property is upheld, especially if you have plans of putting your property on the market in the future. Installing new flooring can help to increase the value of your property, especially if the installation is properly done and the solid footing is achieved. 
For flooring supply and flooring installation Perth services, get in touch with Floors By Nature on 9331 5004 today! 
At Floors By Nature, we have a team of experienced flooring specialists ready to conduct flooring installations throughout Perth residential and commercial properties. Having been in the flooring industry since 1956, we have seen all types of flooring conditions and are experts when it comes to selecting the best methods of installation. We have mastered the different flooring installation methods and always complete each project to the highest standard.
How To Install Flooring? 
Some flooring types cannot be installed simply by sticking or nailing it down to the floor. The proper flooring installation method is dependent on the material or the type of flooring, as well as its pre-cut finish. Proper flooring tools such as glue or adhesive is also required, especially when the material still needs to be altered or sanded down before final installation. It is important to understand each flooring installation method so that you can be guided, especially when doing your own floors, or when deciding what type of flooring material to use for your Perth property.
For efficient flooring supply and flooring installation services in Perth, call Floors by Nature on (08) 9331 5004 or send us an online enquiry for questions or to request a flooring quotation. Our friendly staff at Floors By Nature will get in touch with you soon. 
Floating Floor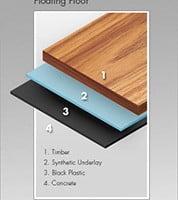 The Floating Floor installation method is often used with Laminate, Bamboo and Engineered Timber flooring only. As depicted in the above illustration, black plastic is laid first on the bare concrete slab to help prevent moisture from penetrating the flooring. Some flooring types with an underlay will include this black plastic and thus won't require a separate layer on the concrete. Your flooring underlay will vary depending on the flooring material you select and according to your budget and acoustic requirements. Once this has been laid, the timber laminate or engineered boards will follow. Like all floating floors, there will be some hollow sound reflected when you walk on it, however, the heavier the boards, you lay, the less this sound is produced, making it ideal in multi-storey floor installations developments as the sound transmitted through the slab below is minimal.
Direct Stick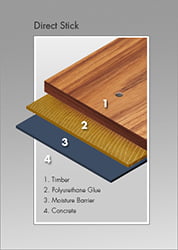 The Direct Stick flooring installation method is by far the most common method of installation for solid timber flooring here in Western Australia. As the illustration suggests, a 2 part epoxy moisture barrier is applied to the concrete slab. When this is dry, the timber plank is glued and nailed to the concrete. The overlay timber used in this method can range from 10mm to 14mm in thickness. While 19mm timber can still be used, there is no real advantage to using it because the thicker tongue and groove profile on the 19mm board is designed for structural applications. Consequently, the sandable depth on both the 19mm board and the 14mm overlay is about 6mm. Direct Stick is also our preferred method of installing prefinished engineered timber flooring because it drastically reduces any hollow sounds associated with floating floors.
Plank on Ply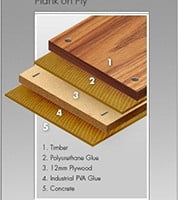 The Plank on Ply flooring installation method is also a popular method used for solid timber flooring as well as for hybrid flooring. A 2 part epoxy moisture barrier is applied to the concrete slab, then sheets of 12mm plywood are glued and nailed directly to the concrete. 10mm-14mm timber overlay is then glued, and the top, nailed with small brads to the plywood. While all timber floors move slightly with the changing seasons, the cross-linked ply base in this installation ensures that movement is kept to an absolute minimum. When assessing this installation it is good to keep in mind that the plywood increases the finished floor height to about 25mm above the slab.
Plank on Battens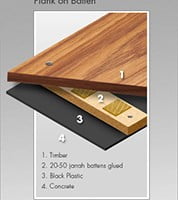 The Plank on Battens flooring installation method is mainly used in houses where the client desires the hollow sounding and springy feel for their floors, just like the older houses where 19mm boards were nailed onto joists. Nowadays, we either apply black plastic or a moisture barrier onto the concrete slab, fix the battens down, then glue and nail the timber onto the battens. The boards used for this method must be 19mm thick.