Hardwood flooring is one of the most durable materials for residential and light commercial buildings in Perth. Entirely made from raw wood, this material creates the most natural-looking floors that transform any space into a comfortable living space. Floors By Nature are leading hardwood floor suppliers and installers in Perth, Western Australia. We stock a range of hardwood flooring under different species, each with their own unique characteristics with natural knots and grains embedded on each plank.

Known for its stable footing and ageless quality, hardwood flooring offers many advantages especially for homeowners seeking durable floors that can last the test of time. With hardwood flooring, you can get better air quality since the planks are not treated with any harmful chemicals and there are no spaces for dust and other particles to accumulate, making it easier to breath. After a while, hardwood floors can also be re-sanded and re-polished to revive its natural beauty, especially if you are retrofitting your home.

Invest in durable floors that can last for generations! At Floors By Nature, we stock a range of hardwood floors for installation to Perth homes.

Australian Timber
Nothing beats living in Western Australia than bringing the outdoors inside through Australian-species Timber flooring. Known for their hardwearing qualities and their unique natural marks, Australian Timber is not only used in flooring but also in furniture. This collection features high quality, sustainable Australian Timber hardwoods such as Jarrah, Spotted Gum, Blackbutt, Kempas, Marri, Tas Oak and many more.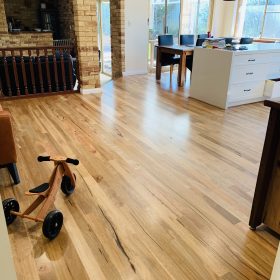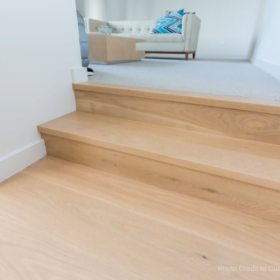 Oak Range
Known for its durable quality (top 5 hardest woods) and natural properties, Hardwood Oak is resistant to fungal attacks and decay and is one of the most popular choices of flooring. Oak can age for hundreds of years and still look brand new. Our range of Hardwood Oak includes French Oak in Creme and Hazel tones as well as American Oak.
Parquetry Range
We stock a range of Solid Timber species for Parquetry flooring including Blackbutt, Brush Box, Grey Ironbark and Spotted Gum. These species, with their natural characteristics, can make stunning patterns, especially with their grains and knots. Parquetry hardwood is also very durable and easy to maintain, perfect for residential installations in Perth.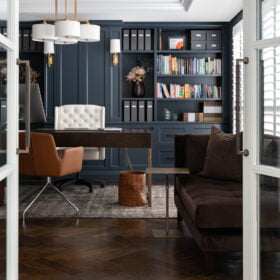 FAQ – All you need to know about  Perth Hardwood Flooring

Q. Do you have a showroom we can visit?
Yes, our Perth showroom is located at 2/291 Stock Road, O'Connor WA 6163. Phone us on (08) 9331 5004 to set an appointment or you can walk in and browse our wide range of flooring supplies.
Q. How much does your range of Hardwood Flooring cost?
Our prices depend on your choice of hardwood as well as on size. For all pricing enquiries, please request a quote or phone us on (08) 9331 5004.

Q. Do you offer Hardwood Flooring installation services in Perth?
Yes, we have a team of Flooring Specialists with a wide range of experience installing hardwood floors over new or existing flooring. Our installation is conducted in alignment with manufacturing directions to ensure your warranty remains valid. For more information, please get in touch with our team on (08) 9331 5004.
If you are looking for durable Hardwood Flooring in Perth, visit our showroom at 2/291 Stock Road, O'Connor WA 6163 to see our stocks and get a feel of how these materials will look in your home. Our flooring specialists can help you find the hardwood that fits your requirements. For supply and installation enquiries, please email us at  sales@floorsbynature.com.au or contact us on (08) 9331 5004.