Enhance the look of your Perth home with Parquetry Flooring to create a truly unique and elegant timber flooring look. Parquetry is a beautiful way to arrange your timber flooring and is installed using smaller pieces of timber, arranged to create distinct custom patterns. Our qualified team at Floors By Nature have extensive experience installing Parquetry Flooring, and our attention to detail ensures we deliver beautiful results.
The beauty of Parquetry Flooring is the range of choice you have when it comes to patterns that allow you to find the perfect look to suit the aesthetic of your home. Explore our Solid Parquetry and Engineered Parquetry Flooring collections to view our array of finishes and patterns available. If you'd like to learn more about our Perth Parquetry Flooring options, get in touch with our flooring specialists today!
Create a unique flooring look in your Perth home with Parquetry Flooring! At Floors By Nature, we stock a variety of Parquetry Flooring options for installation to Perth homes.
Solid Parquetry  
Available in a variety of sizes and solid timbers, there are no limits to what you can achieve with our Solid Parquetry flooring in Perth. Transform individual rooms or your entire home into a stunning feature, with a timeless and clean look, many interior designers are seeking. In addition to its beautiful appearance, Solid Parquetry offers an easy to clean, durable and budget-friendly solution for Perth families.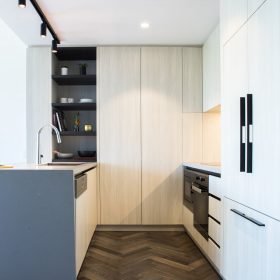 Engineered Parquetry 
Our collections of Engineered Oak Parquetry Flooring are available in a variety of classic and contemporary colours, adding warmth and charm to any interior. Perfectly suited for residential and commercial applications, our Herringbone and Chevron Parquetry collections with tongue & groove can be installed through direct fix or direct stick.
FAQ – All you need to know about Parquetry Flooring Perth
Q. What are the benefits of Parquetry Flooring?
Parquetry Flooring has design and flexibility allowing it to be refinished and coated after several years. Our supply of solid timber for Parquetry Flooring is very durable and can withstand moderate to heavy foot traffic.
Q. Is Parquetry Flooring durable?
Our Perth Parquetry Flooring range is renowned for its durability and hard-wearing nature. If looked after properly, Parquetry Flooring can last over 15 years.

Q. How do you install and clean Parquetry Flooring?
Our Parquetry Flooring has a Tongue & Groove, which can be easily fitted together and secretly nailed to prevent tile movement. To clean your floors, simply use a soft-bristle broom and a damp mop over your floors.

Q. Do you have a showroom?
Yes. To view our Parquetry Flooring range, visit us at 2/291 Stock Road, O'Connor WA 6163. If you would like to set up an appointment with one of our flooring specialists, give us a call on (08) 9331 5004 or send us an online message.
Q. How much does it cost to install Parquetry Flooring in Perth?
or more information about Parquetry Flooring and to receive a price guide, please get in touch with our Perth flooring specialists on (08) 9331 5004 or request a free quote. 
Our flooring specialists can help you find the best Parquetry Flooring to suit your Perth home. Visit our showroom at 2/2921 Stock Road, O'Connor WA 6163 to see our Hybrid Flooring options. For supply and installation enquiries, please email us at sales@floorsbynature.com.au or contact us on (08) 9331 5004