A Beautiful Timber Staircase can be the centre piece of your home, but this doesn't just happen by glueing timber over your concrete stairs – LOTS of preparation is required. The first step is to choose what you would like to clad or make your staircase with. You may choose to have a floating staircase with solid treads or cladded stair treads. Alternatively you may clad an MDF or concrete staircase with solid timber or engineered timber.
Once you have made you timber choice the next stage is determine the layout and fine details such as corner and edge trims. A well designed staircase is timeless in its appeal.
Concrete staircases very rarely have equal goings (tread depth), or riser height. Sometimes the treads slope away. As humans, when we approach a set of stairs we expect each one to be the same, even a small height difference can increase our risk of tripping. This is recognised by the Building Code of Australia.
BUILDING CODE BCA 3.9.1 2016
To achieve this we will first fix a piece of plywood to the riser of each step ensuring that the heights are even. We then pour levelling cement on to the tread and finally fix a piece of ply to the tread. We now have a perfect base to clad with the timber of your choice.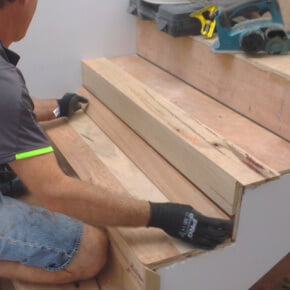 Starting at the bottom of your staircase and working up to the top, we first fit the riser, usually a piece of 4mm MDF with a veneer of your chosen timber on top. Recently it has become popular to have a riser that is painted as a contrast to the timber, using MDF means you can easily achieve this look. We can also use the timber flooring for the riser, and regularly do so when fitting an engineered timber staircase.
Next we will fit a solid timber nosing at the front of your tread which gives the impression that the front of the step is 30mm thick. With an engineered timber staircase this will be manufactured from the floor boards to match in perfectly. The edges of a modern stair nosing are a pencil round arris. Sometimes the edge of your step is visible, in which case the nosing is returned over this edge as well.
We will then fill in the tread with the same timber as your flooring and continue to the top. Often we will fit a timber nosing to the void on the first floor around the staircase.
Cladding a timber staircase is another option. The installation process is the same as described above however the preparation of plywood and levelling compound is not required in this case.
Floors by Nature is also able to make solid stair treads to fit to single or double splined staircases and other modern architectural designs. We can do this using a variety of methods from laminating solid timber, cladding a timber core, or a box construction in either solid or engineered timber.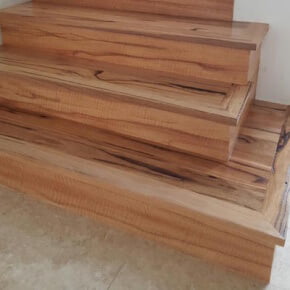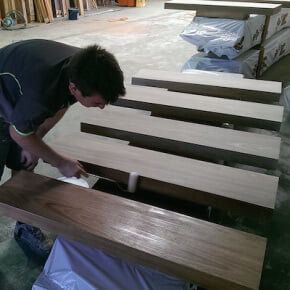 Each Installation is unique and needs to be individually assessed.
We would like to work with you to achieve the result that you want. Maybe you would prefer a square edge step rather than a nosing, or a stringer rather than a return on the sides of your stairs.
Whatever you have in mind, please discuss it with us.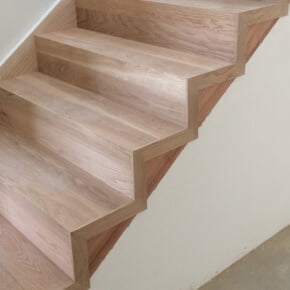 In May 2015, the Building Code of Australia was amended by including a regulation that stairs in a residential installation must conform with AS4586. This means that we are legally obliged to put some kind of anti-slip treatment on your treads. There are several ways we can do this. We can fix a metal anti-slip nosing to the front of the step, or add an adhesive gripper tape.
Our preferred method is to use an anti-slip additive with the same finish that will be applied to your floor. This will have the visual effect of making your stairs more matte than the rest of the floor however the safety benefits for you, your children and older relatives are definitely worth it.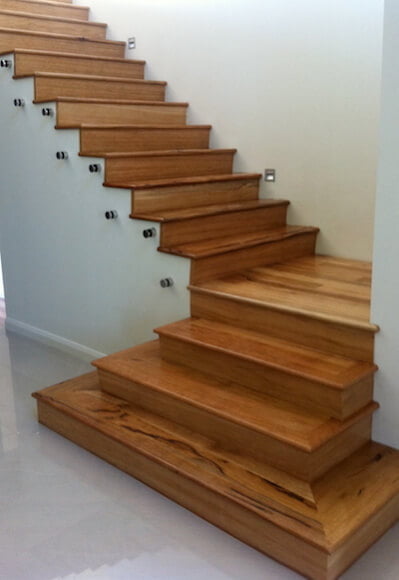 FAQ – Timber Stairs
Q. Why should I use timber instead of other flooring materials to build a staircase?
Solid timber, oak species and other hardwoods are some of the most durable and versatile flooring materials suited for stairs. These hardwoods can withstand heavy foot traffic as well as scratches and dents. With anti-slip properties, you can feel safe especially if you have kids or the elderly around. Not to mention that timber stairs create an expansive look if installed together with timber floors.
Q. What species or type of timber is best used in staircases?
Solid timber such as Australian hardwoods like Oak, Jarrah, Blackbutt and Spotted Gum are some of the best materials to build timber stairs. In addition to being locally sourced, these hardwoods have good Janka ratings.
Q. Can I use different types of timber in one installation?
Definitely! If you want stylish stairs for your Perth home, you can choose different types of hardwood species to create a pattern or make the centrepiece of your home. To view of stock of hardwood, please contact us on (08) 9331 5004 to schedule a visit to our showroom.
Q. What types of timber species are available?
Locally sourced from Australia, the organic hardwood boards come from Ironbark, Eucalyptus, Spotted Gum (QLD), Spotted Gum (NSW) and many more.
Q. WW Can I use timber for curved stairs or to build floating stairs?
Yes, timber can be used in all types of stairs including straight, L, U, Winder, Spiral, Curved, Floating and more.
Q. How do you install timber stairs?
Depending on the material and the under-flooring, timber can be nailed down or glued together to build your stairs.
Q. Can I add insulation under each step of the stairs?
Some timber boards already have a pre-installed insulation layer to minimise sound transmission and moderate temperature. Rather than using regular insulation used in floors and walls, you can opt for timber flooring of that type.
Q. Is it alright to put a carpet runner over the timber staircase?
Yes! With timber as your base, you can still place a carpet runner for additional safety especially if you have kids and the elderly at home. Remember to fasten or nail down the carpet so that it won't sag and cause accidents.
Q. How much will it cost to install timber stairs in a multi-storey property in Perth?
Request a free quote or speak to one of our timber stairs specialists on (08) 9331 5004 for more information on installation.