There are many benefits to installing wood flooring in residential and commercial properties. Not only does wood flooring create a classic yet stylish look and feel for your property, but the upkeep is also very simple. Wood Flooring for Perth installations would vary depending on many factors including the foundation of your property, the look and feel that you want to achieve, the maintenance that you can allocate to your floors, and the overall cost of the material. The type of wood flooring can also appear shiny and modern or rustic and industrial depending on the sanding process and the final finishing applied.

At Floors By Nature, we want to help our customers decide on what wood flooring to get for their new homes or renovations. With over 50 years of experience in the flooring industry, we have seen all floor types and know what type of wood flooring is best in Perth installations. We have also mastered the different flooring installation methods required for each type of wood flooring and always complete each project to the highest standard.
Solid Wood Flooring
Solid wood flooring is made from genuine and raw wood materials including timber, oak and hickory. Genuine solid wood has the highest Janka rating or hardness of wood flooring and can last for a long time even when installed on areas with heavy foot traffic. The natural stains, cuffs and grain patterns of the wood species often raise the value of the material especially since these add to the character of the space that it is installed in.
Engineered Wood Flooring
Engineered wood flooring is made up of several layers of wood planks engineered together to make a very durable and stable flooring that cannot easily be affected by humidity as opposed to genuine solid wood flooring. Engineered boards often have a top layer that can imitate any type, species or colour of wood, and a solid layer to provide extra backing. Compared to solid wood flooring, engineered wood flooring have more design flexibility and can match any interior or exterior installations.
Reclaimed Wood Flooring
Using reclaimed wood is one of the most environmentally friendly solutions to building and construction. Reclaimed wood flooring is a solid or engineered wood that has been previously used in other building projects and is now reused to complete a different project. Since wood that has been properly maintained can last for a long time, this raw material can outlast the flooring or the fence of a property and therefore can still be used in another project. Reclaimed solid wood and engineered wood flooring can be sanded down and polished to bring out the natural characteristics of the wood and give character to where it sits.

Aside from full wood floorings such as solid wood and engineered wood, there are also different types of raw elements processed with wood, to create various floorings with different usage.
Bamboo Flooring
Strandwoven and Engineered Bamboo Flooring are made up of shredded bamboo which is broken down into individual elements and is woven or engineered together and glued to a wood plank for extra durability. Bamboo flooring is very versatile and can be installed over most subfloors including underfloor heating and insulation. Since bamboo flooring is processed, there's a variety of designs available for you to choose from including rustic, industrial and aged.
Hybrid & Laminate Flooring
Hybrid flooring is made up of the best features of vinyl and laminate flooring. Some hybrid flooring is made up of synthetic materials such as melamine resin mixed with solid wood composites to create a very durable, flexible and often waterproof flooring. Since this flooring is engineered, different layers such as acoustic inlay and insulation can be added to the final product.

Having been in the flooring installation industry since 1965, we're known for providing only the highest quality, sustainable wood floors in Perth installations. We supply a range of Wood Flooring in Perth for all types of residential and commercial installations. We work with a wide range of brands including WoodPecker, Whiteland Milling, Trex, Bostik & much more. Our range of Solid Floors includes Australian Timber, Oak and Parquetry Flooring. Our Engineered Floors range from Australian Timber, Elk Falls Hickory, European Oak and Parquetry. We also have Strandwoven and Engineered for our range of Bamboo Flooring. For our Hybrid & Laminate Flooring, we have Easi Plank, Iconic, Hydroplank and Aspire Flooring.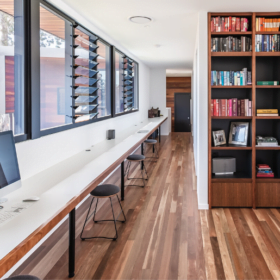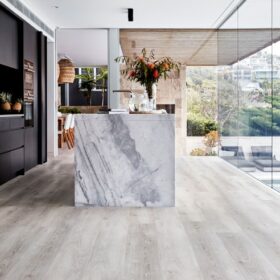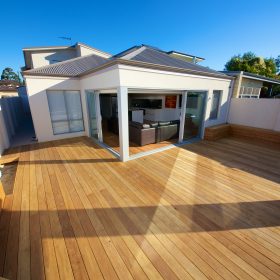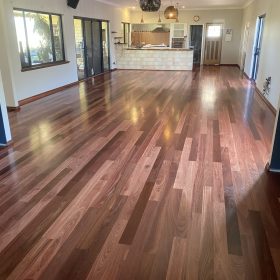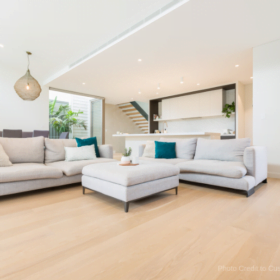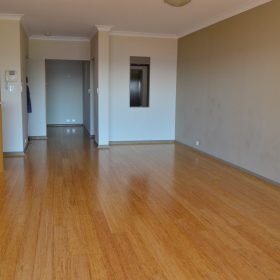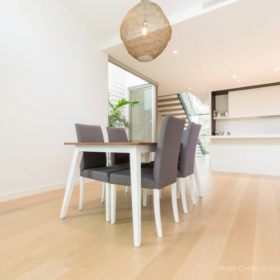 Phone us on (08) 9331 5004 to get a free quote. You can also send us an online enquiry to schedule a visit and browse our wood flooring products in our Perth showroom. Our friendly floor specialists will get in touch with you for all your flooring needs!