Create a luxurious European style and transform your home with our quality Oak Flooring in Perth. At Floors By Nature, we love Oak Flooring; with its unrivalled beauty and characteristics of traditional European Oak, this flooring option is extremely durable, hard-wearing and ideal for busy family homes in Perth and throughout Western Australia.
Our Solid Oak Flooring and Engineered Oak Flooring collections provide a long-lasting and beautiful appearance. Both collections are available in various sizes, thicknesses and stains with an oak style to suit every Perth home.
Create a unique flooring look in your Perth home with Oak Flooring! At Floors By Nature, we stock a variety of Oak Flooring options for installation to Perth homes.
Solid Oak  
Solid Oak Flooring is a fantastic choice for flooring in Perth. Not only is it extremely hard-wearing, but it's easy to stain, clean and maintain. Over time, Solid Oak Flooring will continue to improve, with the natural colour becoming richer if cared for properly. Our French and American Oak collections are available in a variety of sizes, colours and thicknesses, allowing you to achieve the perfect look to suit the aesthetic of your home. Whether you're looking for a unique natural finish or a product you can easily stain, our Perth Oak Flooring is the best choice.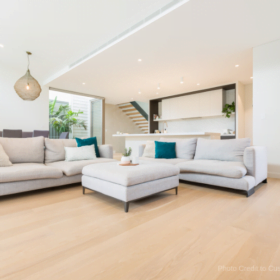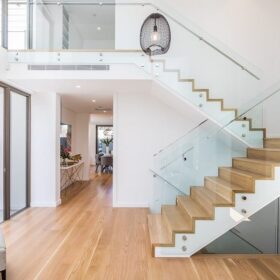 Engineered Oak 
Engineered European Oak is the perfect way to get a real French Oak floor in your Perth home that is stained and finished for a fraction of the price. Made using real timber, our Engineered European Oak features a supportive layer that offers many advantages including stability creating flooring with minimal movement. View our Prestige Oak, Vogue Oak, Coswick Series, Signature Oak and Prestige Oak collections to view our full range of colours and finishes.
FAQ – All you need to know about Oak Flooring Perth
Q. What are the benefits of Oak Flooring?
Both Solid Oak Flooring and Engineered Oak Flooring have a range of benefits, with the most important being durability. Known for being one of the most hardwearing flooring materials, Oak Flooring can be re-sanded and re-stained. Oak flooring is also known to get better with age, making it an ideal investment for your Perth home.
Q. What's the best way to clean Oak Flooring?
We recommend using a soft-bristle broom and a damp mop to clean the floors. It's always best to sweep along the grain to prevent unwanted scratches.

Q. How do you install Oak Flooring?
We install our solid oak flooring and engineered oak flooring in alignment with the manufacturer's specifications to maintain your warranty. For more information, please get in touch with our team on (08) 9331 5004 to discuss methods and timeframes.

Q. Do you have a showroom?
To view our Oak Flooring range, visit us at 2/291 Stock Road, O'Connor WA 6163. If you would like to set up an appointment with one of our flooring specialists, give us a call on (08) 9331 5004 or send us an online message.
Q. How much does it cost to install Oak Flooring in Perth?
For more information about Oak Flooring and to receive a price guide, please get in touch with our Perth flooring specialists on (08) 9331 5004 or request a free quote. 
Our flooring specialists can help you find the best Oak Flooring to suit your Perth home. Visit our showroom at 2/2921 Stock Road, O'Connor WA 6163 to see our Hybrid Flooring options. For supply and installation enquiries, please email us at sales@floorsbynature.com.au or contact us on (08) 9331 5004